Now that the holidays are over and you have thoroughly enjoyed the season and having your home decorated with all the extra holiday knick knacks, it's time to put things away. This year, why not do it with intention? If you put everything away organized, it will be so much easer to get everything out next year and to then put it all away again next year.
Let's start with the outdoor decorations. I recommend you store these in 5 gallon containers with a label on the front as to what the contents are. It's also a good idea to use a holiday colored container. That way you know that all your decorations are in the same colored bins. Examples for the labels are "outdoor garland, outdoor lights, outdoor wreaths, etc." If there are extension cords and spotlights that you use only for your outdoor lights, then store them with the lights in these containers. A simple way to keep the lights from getting all tangled is to use a sturdy, rectangular piece of cardboard to wrap the lights around. I have used this process and it works really well.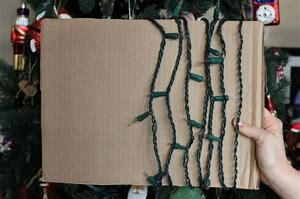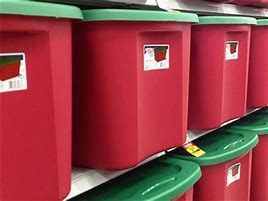 When it comes to storage containers for the interior decorations, again I recommend the color-coded containers so you know that when you are looking for your holiday items, they are all in the same colored bins. When packing items up, pack them up per room. Whatever decorations you have in your family room should all go into a container labeled "family room". You can add additional detail if you have more than one container for that room so that you know what is in each one. I would also suggest that you increase your packing space by reducing the cardboard that each item came in. Simply wrap each item in packing paper and recycle that cardboard. You'll be surprised by how much more you can fit into a container without all the extra boxes.
When taking the ornaments off your tree, I suggest using an ornament storage container. These protect your ornaments and save you the time and energy of wrapping each of them individually to protect them. I use a container similar to the one below and find it so helpful.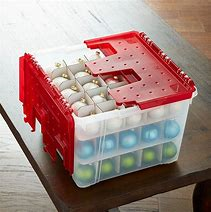 When you take the lights off the tree, store them on cardboard, just like you do with the outdoor lights. If you use lights in multiple places in your home, label where each set goes. If you have an artificial tree, you'll need to take it apart and try to get it reduce in size for storage. A good way to do this is to get some cheap belts at a local thrift store and synch them around the different sections and tighten them up! This will really reduce the size of your tree and make it easier to handle and store.
Store left over gift tags, tissue paper and bows in a small container that will keep everything safe and sound until the next year. And when it comes to your wrap, its easy to store it in Rubbermaid plastic container made just for wrapping paper! Your paper will be ready for you next year!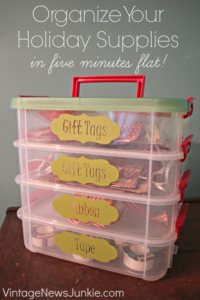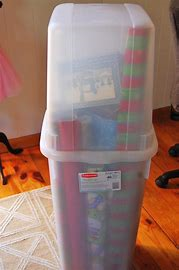 And for the grand finale, when you put your storage containers away, put them all in the same location of your garage, attic or basement with the labels of what inside each container on the side facing you. Now, you are all set when it comes time to get it all out next year. Easy peasy! Also, putting everything away will be a piece of cake from here on out! (Photos: Pinterest & sparefoot.com)
Cheers to a wonderful 2019!
Contact Julie for help with your organizing needs or to schedule a speaking engagement.