When taking on an organizing project, be sure to check out your local Dollar Tree.  It's surprising how many organizing supplies they have for only a dollar per item!  What I love is that several of my clients are aware of this and they stock up on some simple cubes prior to our session.  These cubes are great when organizing a bedroom closet, linen closet or entry closet.  In the bedroom, use them to store purses, belts or scarves.  In the linen you could group like items together and then organize them in separate bins.  For example, one could be for lotions, one for medications and one for soaps/body wash.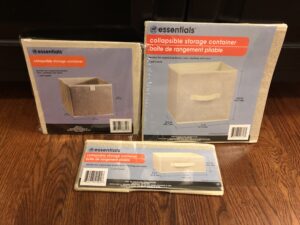 They also offer office organization supplies.  Anything from magazine holders to drawer organizers, and small containers for items like paperclips and push pins.  The great thing about the pen/pencil organizers for the office is that they come in packages of 3 and use can use them in the office, junk drawer or kitchen drawers. Another unique find was a tiny organizer that could be used for nails, push pins, paper clips or small craft supplies like clasps or beads.  Honestly, it is really remarkable how many items you can find.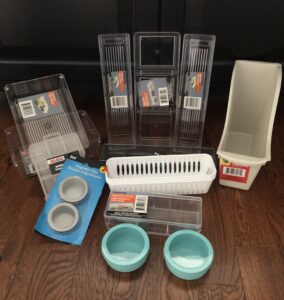 Speaking of kitchens, did you know that the Dollar Tree even has organizers for silverware drawers? They also have dish pans (can be used to wash dishes or store items in).  I love when simple tools can be used in multiple ways.  I was also pleasantly surprised to see refrigerator organization containers today too. They offer drawer liners that make it easy to keep your surfaces clean and tidy.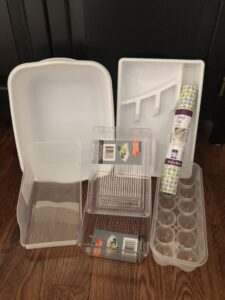 Moving on to the bathroom there are many tools that can help you keep your bathroom neat and tidy. Anything from drawer organizers to keep everything in its designated place to items for your counter top that are clear and pretty and ready to hold your brushes, nail polish, q-tips and cotton balls.  Everything will be right at your fingertips and looking polished!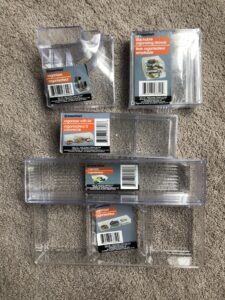 Then there are the miscellaneous items that are unexpected surprises!  They have small makeup bags that are perfect for organizing your purse and they come in fun designs.  What a perfect way to keep like things together and easy to find when everything would otherwise get lost in the bottom of our purses.  Personally, I like using one for lipsticks and lip glosses and another for first aid and medication.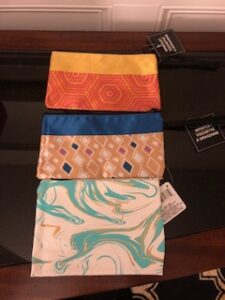 I hope that I have opened your eyes to some great organizing tools that are inexpensive and do the trick.  In the near future, I will be sharing some dollar store finds that I like and various ways to use them. Share your other Dollar Tree favorites with me!