While Thanksgiving might look different in 2020 compared to the year's past, the truth is that no matter what size your gathering is, there will probably be a big meal involved. I thought I would share a couple ideas that I use to help me stay on top of everything.
The first step is to plan out your menu.  Yes, there will always be turkey and stuffing and gravy, but it's a good idea to write it all down and sort of map out your menu so that when it's time to make your shopping list, you don't forget anything.  Here is an example of a menu planning sheet.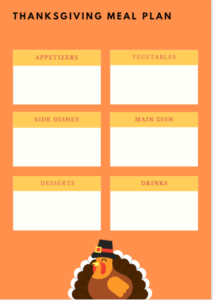 Once you have used the planning list to know exactly what you are making, it's time to take a look in your pantry and make a grocery list of items that you need to have in order to make everything.
Now, it's time to prepare for the meal.  Go ahead and make any of the items you can prepare prior to the actual dinner.  Things like deviled eggs, cut veggies and dips, cranberry sauce, pies, cakes, cookies. Remember to cross them off the meal plan list as you finish them and that way you will know exactly what is left to do on Thanksgiving Day.
It's a good idea to take a look at the cooking instructions for your turkey ahead of time.  If your turkey is frozen, it will need some time to thaw out.  Here is a guideline for that, for each 5 pounds of meat, it will take 24 hours.  So, if your turkey is 20 pounds, it will take 4 days to thaw in the refrigerator.
When it comes to cooking the thawed turkey, the general rule is 20 minutes per pound.  If your turkey is 20 pounds, it will need to cook for approximately 6 ½ hours at 350 degrees (unstuffed).  Sometimes, it's hard to know how big of a turkey to get.  I saw this wonderful guideline and thought I would share it as well.
Now that you have figured out how long it will take your turkey to thaw and cook, it's time to take a look at the other dishes to see how long it will take them to cook.  I find it helpful to write these times out as well as the baking temperatures.  You could even set reminders on your phone for the time that each item needs to go in the oven or be started on the stove.  Let's face it, the meal can be overwhelming.  If you have guests joining you, let them bring a dessert, side dish or drink.  That is one less thing that you will need to worry about.
Another time saver is to get your serving dishes out and label (put a note as to what is going to go into it) each one.  This is a huge time saver because when everything is finished cooking at the same time, it's good to know that dish will be used for each versus trying to find something to serve it in.
Lastly, let's talk about the leftovers.  We all know that there will be plenty to go around!  It's a good idea to have food storage containers available for your guests to take some home with them.  You will find Glad containers in the paper goods / food wrap section of your grocery store.  They are relatively inexpensive at around $8 (compared to Pyrex and Tupperware)!  Here is a link to some on Amazon.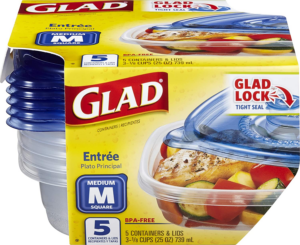 I wish everyone a wonderful Thanksgiving and I hope that these suggestions will make the cooking for that day go smoother.  Now the cleanup, that's a different story!  My suggestion is to let anyone help that offers to!
Enjoy the time with your family and Happy Thanksgiving!