Do you ever look at your pantry/food storage space and think "I know that I can use this space better, but how do I do that?"  Last month, I was a friend's home for a small gathering where I made a new friend!  She was a lot of fun and we were exchanging social media information and she saw my business and asked me what I did.  I explained that I am a professional organizer and I enjoy making the most out of one's space.  Then she shared with me that she has a cooking business, Tasty Stacey Homecooking, and that her pantry is taking a toll being used for both business and for the family's every day needs.  She said that she could really use some help with a "vision" for her pantry and asked if I'd come take a look.
From there, we scheduled a complimentary consultation for me to come and see first-hand what the pantry looked like and to get a feel for how it could be utilized to meet the needs of both her family and her business.  When we met, we talked about what was and was not currently working as well as how she was currently storing her various spices and oils.  She also shared that while she is a cook, her daughter enjoys baking and that they could benefit from some organization in that arena as well.
Well, the creative juices started flowing and that evening, Stacey and I were exchanging texts that covered many ideas and organizing solutions for her pantry.  In reality, we were shopping together just separately and on line.  I shared my plan and suggestions for her pantry and she went ahead an ordered the products.
Once everything had arrived, we scheduled a date to attack the pantry.  Upon arrival, she showed me the supplies that she purchased per my recommendation and we set about removing everything from the pantry and categorizing it into groupings.  For Stacey's cooking business, we created four individual large bins that she would use for the ingredients for each meal.  This way, the business food would not get mixed up with her family food. Who would have thought that a laundry hamper would be a good solution for a pantry?  In this case, it was the perfect solution.  We also purchased these clip labels so that she knows which basket has the supplies for each meal.
We also reused her shelf risers that she had been using for spices and decided to use them for canned goods.  Some of her foods were put into air tight containers (sugar, rice, cereal, etc.)  with washable chalk labels.  This will keep her food fresh and make it easy for her to find what she is looking for.
To keep the potatoes and onions in and easy to find location, we decided to use this divided container with chalkboard front.  It was the perfect solution!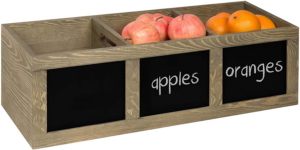 We made the most out of the huge corner spaces by using these large lazy Susan's.  They were perfect for the project.  I would have to say that the lazy susan is one of the most versatile organizing tools.  They can be used under a sink, in the pantry or cupboard, on the counter or even in the refrigerator!  The options are endless!  We created one corner organizer for all the baking supplies!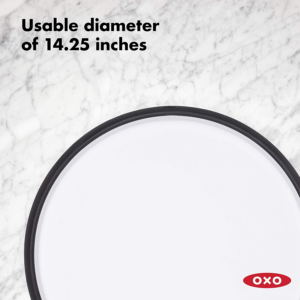 We also decided to use some space that is often overlooked, the back of the door!  This pantry addition was turned into the snack center for the kids so they could grab a quick snack and not have to really get "into" the pantry!  It was the perfect solution!

Pantry before, during and after!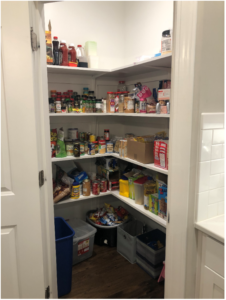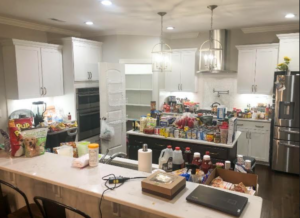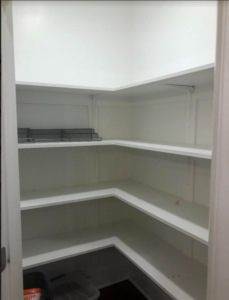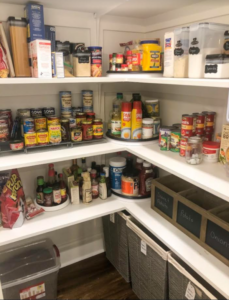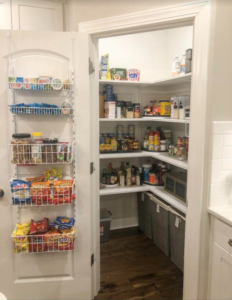 Isn't the finished product spectacular?  But the fun didn't end there!  Originally, she had some spices in the pantry and some in the cabinet to the right of her stove.  We decided to consolidate all the spices to the cabinet and only keep some overflow items and sauces in the pantry.  So, again we cleared out the cabinet and grouped like spices together and then sorted them again in to group of most used to least used.  For this we used more lazy susan's and even a couple two tier ones!  As you can imagine, there were several multiples of various spices, oils and vinegars because she simply didn't know what she had versus what she needed so she was buying duplicates.  Needless to say, we consolidated and organized them so that she will know exactly what she has!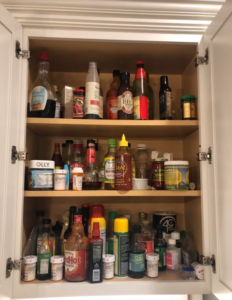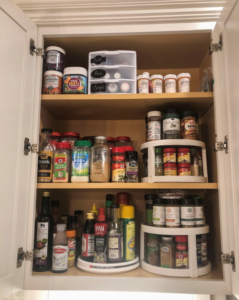 It was easy to conclude that the client, who already loves cooking, loves it even more now that the pantry is so efficient.  When I reflect on this project, it's clear to see that it wasn't an out-of-control pantry.  It was just one that needed to be given a little attention and to match the needs of the client.  She knew that something needed to be changed but simply didn't know what products were available to help her with the process.  This is where hiring a professional was super beneficial for her.  Also, I would like to add that the amount of time applied to this job (pantry and cabinet) was a total of 3 hours!  Talk about using our time wisely!
I thoroughly enjoyed working on the project and getting to know my new friend better.  This is the beauty or being organized, she can find just what she needs it and it saves her time any money in the process.
Stacey is an amazing cook and I highly recommend you check out her Facebook page whether it be a meal for your family, a group event or even as a gift for a new neighbor or friend in need, she will provide a meal that will have everyone raving!
If your kitchen or pantry could use some finesse like Stacey's did, I'd be more than happy to have a conversation with you about it!