When we started looking at houses in the Raleigh area, I was surprised that many didn't have a basement.  We have lived in Maryland and Ohio an have always had a basement for storage and flex space.  I was surprised to see that most homes offed a third story flex space but often that took away from the storage available in the homes.  As a result, storage options are typically closets and under the eaves with tiny doors and small storage space.  People are left to use their garages as storage and to keep their cars in the driveways.
When I started my business, I noticed a growing trend of people running out of space to store their holiday décor, keepsakes and such.  As a result, there are many new storage units being built in my area.    I was happy to find a business called Garage Attics.  I spoke to the owner, Kevin, and it turned out that he lived in my neighborhood at the time! We met for coffee and he shared information about the services that he offers and how he creates storage in garages, especially the tall ones, but can work with any of them.
Garage Attics offers two different storage models and both can be customized to fit your specific needs.  Let's talk about the Garage Attics first. This is information that Kevin shares on his website:
If you have a garage with a ceiling height of 11 feet or more and you're not utilizing the area above the garage door tracks for storage, you're truly wasting valuable space.
Our garage storage loft solutions will convert your garage into a dual-purpose area for both parking your car and storing your belongings, giving you the best of both worlds.
GIVES YOU MORE ADDITIONAL SPACE THAN A STANDARD SIZE BEDROOM
On average, a Garage Attics storage loft will give you approximately 240 square feet of additional storage space inside your existing garage. That's about 100 square feet more than a typical 12 x 12 Bedroom!
Why pay for a storage unit or loose valuable floor space with free-standing shelf units when you can gain hundreds of square feet of additional storage area using the overhead space you already have available in your garage. All of your belongings can be easily accessed from the front edge of the loft or by customizing your project with one or more of our convenience options.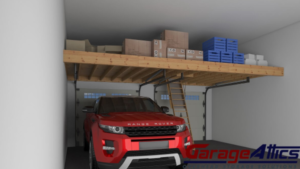 I know that not all homes have a super tall garage and Kevin has a solution for that as well. Here is some additional information from his site:
Do you need even more space than our overhead storage loft solutions provide? Or perhaps your garage isn't quite tall enough for an overhead loft? Either way, if you're in need of maximum storage space, our custom garage shelving services will provide you with just that.
Garage shelving can be extremely helpful in keeping your more frequently used items organized and out of the way. When combined with a Garage Attics storage loft, it will allow you to gain the absolute most from your garage storage capabilities.
OUR CUSTOM GARAGE SHELVING WILL MAXIMIZE YOUR WALL SPACE TO FREE UP YOUR FLOOR SPACE
Choose from our suspended or floor supported garage shelving options to fit your exact storage needs. Our suspended wall shelving won't encroach on your usable floor space and is most commonly used along the side walls of your garage to ensure that you have ample room to pull your vehicles in and out. Our floor supported shelving options are typically used against the back wall of your garage to give you the most vertical storage possible between the floor and ceiling.
There is a certain freedom you'll experience when your things are neat and organized. You won't be embarrassed to open the garage door when the neighbors are out and you'll appreciate how easy it is to get in and out of your tidy garage. Most importantly, your garage will be so much more functional!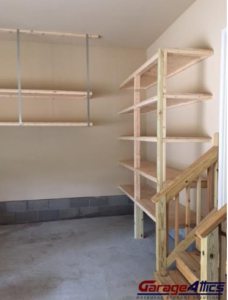 If you are feeling like your garage is bursting at the seams and you simply have no storage available in your home, I highly recommend that you call Kevin for a storage vision and estimate.  He has worked with several of my clients and every is very satisfied with his work.   He takes pride in his work and it shows.  For more information, take a look at his website.